040-21
Fan Spacer. This was used stock in 1975 and 1976, but is much more widely used when doing a dual pulley mod on all direct drive water pumps to clear the second pulley and accessory [think power steering/alternator relocation. The OE spacers have become hen's teeth, so I had a batch of them reproduced.
$45.00
052-90BB
Carburetor Insulator, 1BBL, BILLET ALUMINUM. Perfect replacement for your broken bakolite insulator. If you don't feel like drilling and tapping the insulator yoyrself, I also offer a drilled and PCV ported version of this insulator for $90.
$45.00
055-01B
TriY-Header,Chrome. Not legal for sale in California on pollution-controlled vehicles. Everybody knows this is the best header on the market, originally designed and marketed by the legendary Downey Off Road. Why re-invent the wheel? NOTE!!!This header was just recently redesigned to improve its fitment with even the largest of the 2F intake manifolds!
out of stock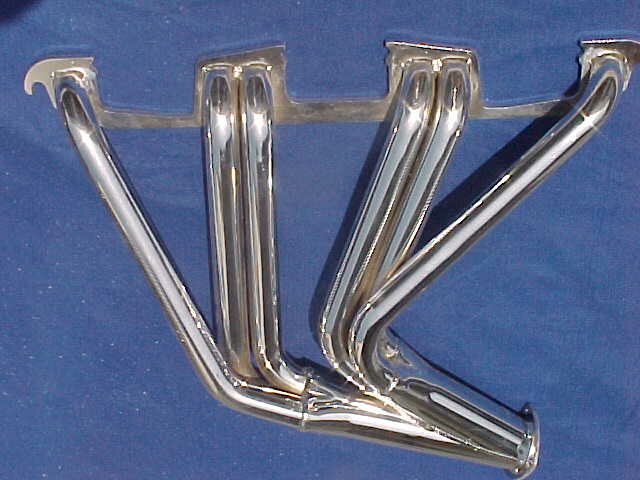 055-03B
Super Duty Header Gasket. The best header gasket I've found. The close up pic shows what I've been talking about on the FAQ: simply the widest sealing bands you can get, providing superior compression and conformity, as well as chamber protection. DO IT RIGHT OR DO IT TWICE!!!
$48.75
057-11
Accelerator Cable Mounting Bracket, reproduction. Essential but often missing piece on the 1970-1972 carbs to tension the accelerator cable to the bellcrank. Got tired of hunting for strays and paid to have these reproductions made.
$24.95
057-40AR
Throttle return spring bracket. Used on the FJ40 and FJ55 between 10/69 and 2/73 to anchor the return spring that brings the primary throttle back down to idle. Missing on over half the rigs out there, I decided to have a batch of these made.
$24.95
090-05
Transfer Case conversion kit. These are the parts necessary to get a transfer case from a 1973 and older FJ with the 2.31 low range to mate up to the 1974 thru 1980 4 speed transmission with the 16 spline tailshaft. Included in the kit are a brand new adapter gear, pto spacer sleeve, new imput bearing and seal. This is a web-only special.
$179.99
090-05SS
Added to the basic kit are the longer bolts required to attach the transfer to the 4 speed, the rear spacer sleeve, the plate washer and locknut.
$279.99
090-88AS
Dual seal speedometer gear housing. If you've properly shimmed your main transfer case output bearings, checked your parking brake drum for grooving at the stock seal are and still have a pesky leak, this is THE low-cost mod for stopping that leak on your 64-80 transfer case. The housing is machined and two seals are installed back to back, guaranteeing you will now be running a seal on a virgin section of your parking brake drum.
$80.00 exchange
122-09FF
Power Steering Mounting Plate, Deluxe! These heavy-duty plates are being manufactured for us by a local fabrication shop out of 1/4 steel plate that is cut to match the exact shape of the FJ40 frame. Unlike the Downey and AA plates that force you to compromise what bolts you use because of poor bolt access, these are designed with the two upper bolts to go all the way thru the frame. Delivered with 4 steel tube spacers that are not welded to make exact box matching much simpler. Reinforcement plate included. Special pricing with larger p/s kit order.
$75.00
122-20M
Power Steering Kit, Minor,Saginaw Type. This is the heart of the power steering kit,the parts you are most likely to need regardless of which steering shaft and box you use, packaged together at an unbeatable price. Included are the Saginaw-type pitman arm, the high-range SAE tie rod end and the custom machined relay rod with the metric lower end to tie back into your stock steering. Separate PN 122-11B, 122-12, 122-14.
$134.95
122-21A
Power Steering Pump Bracket. This bracket is designed to anchor a Saginaw-type power steering pump on lower left side of engine block. This is the most popular location for the pump, as it puts it right next to the steering box for easiest hose routing. The bracket was designed tall enough to clear the steering shaft and frame on both FJ40s and FJ55s, and was designed with enough fore and aft space between the mounting ears to accomodate alignment with all pulley configurations.
$75.00
130-DD02
DOUBLE DUTY SHACKLES! A Mark's Off Road Exclusive, these heavy-duty replacement shackles for the 64-80FJ40 are laser cut from 3/8" steel,are 2.5" longer than stock and feature an adjustable, removable center gusset. This allows for better flexability off road, better tracking on road, and the ability to fine tune the shackles to perfectly match your spring and bushing comination. A 1.5" lift version is also available as PN 130-DD01.
$87.00
130-DD82
FJ45, FJ55, FJ60, FJ62 DOUBLE DUTY SHACKLES! Made with all the same great features as the DD01 and DD02 featured above, these shackles come drilled and supplied with the 18mm hardware found on the FJ45 rear, FJ55, FJ60 and FJ62 series.
$104.00
130-15AA
Leaf Spring Saddle Pads. Made by ConFerr. 2.5" wide. Fully welded, heavy duty replacement. Stronger than stock and a very affordable option for outboarding and spring-overs.
$19.99
130-16A
FJ40 U-BOLT SKID PLATES

The concept is simple. The nuts on your stock u-bolts stick out AND DOWN from the factory U-bolt plates, waiting to be bashed up as soon as your rig gets into the rocks. The u-bolt skid plate provides a second skin for the spring plate which is ramped to make passage over rocks easier and to provide a protected area for the nuts on the end of your U-bolts. If you ARE familiar with this product, then you also probably know that ALL of my competitors are selling these for $100 a pair OR MORE! BUY HERE AND SAVE!

These plates are stamped out of 3/16ths inch steel, welded and gusseted for strength and powdercoated for a rust prevention and overall great appearance. Fits all FJ40, FJ45 and FJ55 front axles, and FJ40 rear axles 1973 and older.
$88.00
130-51
ABS for your FJ40,FJ45, FJ55, FJ60. Asymmetrical Bump Stops were designed to turn your factory bump stops into the new orientation of your lift springs and shackles so that the axle will hit more squarely on the stop, and hopefully before your larger tires contact the sheetmetal of your truck. This is 'the missing link' to make any suspension lift truly complete! Available in 1.5, 2.5 and 3.5 inch extensions.
GONE
140-10CRA
Rebuilt Brake Booster, fits 7/70-12/74 FJ40 and FJ55, very competitive price
$300.00 Exchange
140-50A
Dual Master Cylinder Adapter. I designed this adapter back in 1993 to provide a safe and simple way to bolt a dual circuit brake master cylinder directly to the firewall of a pre July 1970 Landcruiser. Its simple,compact design works with your existing pushrod, and has no threaded holes to wear out. The upgrade from the single circuit master usually takes about one hour; the peace of mind lasts much longer! I worked out a deal with a new CNC source to bring the price way down from what it was.
$50
143-04X
Disc Brake Backing Plate Eliminators. The dust shields on the Landcruisers are often badly dented and rusted out to the point that they are more of a liability than an asset. However, the center section provides the necessary spacing for the mounting of the spindle bolts. Hence, the need for the eliminators, which provide the necessary spacing. Brake hoses that run directly from the axle to the caliper are also available under PN 141-22SP
$21/pair
151-20A
Early Hood Set, E-67FJ40 and FJ45. Here we have a pair of genuine NOS windshield cushions, brand new hood hooks, and reconditioned original windshield hooks in the style no longer available from the factory or aftermarket. Perfect for that authentic restoration.
OUT
157-07FA
Rear hatch lock cam. Discontinued item for the 65-74 FJ40 lift up door
$10.00
159-20CSR
Mirror and Arm Set,fits 69-74FJ40s, Mirrors are new, arms are bead blasted to bare metal with new hardware provided
$170.00
160-01C
Turn Signal Assemblies, Pair, for 63-68FJ40,Genuine Toyota NOS!
$84.00
200-1011
Source CO2 Tank System-Basic-include lightweight aluminum tank, Hyper-Flo regulator, 20ft Comp-Flex hose, quick connects, tire chuck and EVEN the high quality, powder coated tank bracket. 10# model very competitively priced at $239.00. Other sizes and models also available.
$239.00
200-1501P
FJ40 Auxiliary Fuel Cell. NEW ON THE MARKET! This tank was made to the same specifications as the legendary ConFerr auxiliary tank that is no longer being made. Thousands of dollars were spent to have a roto mold made to duplicate the tank in a race-approved, cross-linked polyethylene. The tank now shares the features of a full race tank which include dedicated outlet and return lines as well as a vent line. Tank DOES NOT INCLUDE the sending unit; they can be readily sourced elsewhere on the internet.
$699.00
200-1513
Deluxe Trailer Hitch. 1/2" thick steel plates are just the beginning of this brute that will outlast the frame of your FJ!
$114.95
200-1548
ConFerr mounting tabs. Handy mounts for attaching almost anything to tube. These were commonly used to mount off road lights to rollbars, but in today's world, I can picture a whole lot more uses, including CB antennas, Hi Lift Jack mounts, exo-cage platforms. Just an all around handly item to have. Made from 3/16th steel, 2.75" side to side and 2.5" on the platform.Price per pair.
$10.00
200-1556
Heavy Duty Roof Rack Clamps. Patterned after the time-tested and proven design of the industry leader, these clamps have all the beef without the name brand price.
$50.00