Mission Statement 2003
A lot has happened in the four years since we last printed a catalogue. The computer system that was supposed to make this a breeze helped a lot, but was not a cure-all. Scanning the pictures may happen by next printing. Then again, it may not. Since the passing away of my father some years ago, some of my attitudes have changed; many have not. Most of what I wrote four years ago in this column still applies.
While I don't claim to have studied the concept much, it seems to me that a mission statement is as much about attitude as goals. Sometimes the attitude sucks, and that is probably the cause of a general lack of common decency every one of us faces somewhere everyday. If you're as tired of that as I am, read on.
So what are we committed to? 1. We are committed to gathering as much technical information as possible on production options, crossovers, modifications, alterations, and generally anything you can't find in a book. 2. We are committed to making that information available to our serious long-term customers. 3. We are also committed to networking with any reliable source of Landcruiser parts so that we can maintain a good availability without taking many 'Cruisers' off the road. 4. We are committed to offering quality service in the refurbishing and rebuilding of Landcruiser parts and the vehicles themselves with the level of quality that "Landcruiser only" mechanics can provide.
What we are not committed to is the lowest price. Our prices are what they are because that is what we need to charge to survive, period. If they are lower than our competition, which they often are, it's because we don't have the overhead they do; it's that simple! Of course keeping overhead down causes compromises. We probably won't ever have the type of catalogue you're used to seeing from Downey or Man-A-Fre. And we doubt we'll ever have enough money or thick skin to put up with individuals trying to pump us for information which only makes it easier for them to shop elsewhere.
If you haven't figured out my attitude by now, you probably will the first time you've talked to me on the phone. If all you're interested in is the bottom line, eventually that's all you're going to get. Those that have the information either won't be around, or will be tighter with their lips than you are with your wallet. All that will be left are mindless automatons who will sell you what you ask for, whether or not it's really what you needed.
I know we're not the biggest, and sometimes not the least expensive. But I believe we are the best at what we do and if you keep supporting us the way you have, we'll continue to be there for you. While my attitude may not be the recipe for success in the strictest financial sense, I feel fairly certain that it will draw and keep the caliber of customers that has kept Mark's Off Road so much fun to run for the last 13 years.
Mark
About Us
We bought our first 4x4, a 1976 Chevy Blazer which we still own, in 1980. It only took three days 'til we got it stuck off road. We became active with the local four wheel drive community in 1982, and by 1983 we were active members of two clubs, going on 12-18 runs a year, including a memorable run thru pre-dynamited Rubicon.
Through a chance meeting with one of the founding members of TLCA in early 1985 we simultaneously found out about a wonderful trail called the Dusy-Ershim and our inability to drive it due to more severe size constraints than the Rubicon. The need for a Landcruiser was born!
We bought our first Landcruiser, a 1968 FJ40 which we named RufToys in October of 1985, the same time our daughter Rebecca was born. It was a $750.00 rust bucket with a blown engine and bare spring coils for the passenger seat. On the road (but far from roadworthy--you KNOW what I mean) by March of 1986, the shakedown outings began. Thanks to the help of a local legend, we survived the Dusy-Ershim in August of 1986.By the time our son Daniel was born in 1988, we had both a considerable interest in the business of Landcruisers and a considerable dissatisfaction with the available vendors and mechanics.
Our first store in Hollywood due to open in June of 1989 never got off the ground because of zoning problems. It turned out to be the first of many fortuitous things. Eleven months later we opened the door of Mark's Off Road Enterprises in Burbank.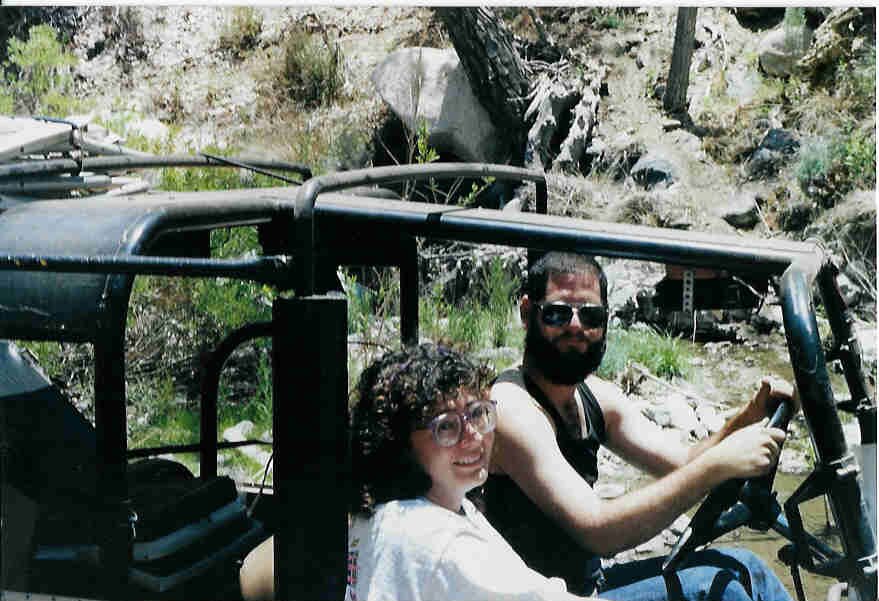 ---
Home
Our Catalogue